Singapore's startup industry owes much of its success to grants and accelerators. Here's your quick guide to the system in the city.



The Tech Startup's Guide to Singapore is a series where we bring you useful tips such as the who, what, and how of running a startup in Singapore.
Startup ecosystems rise and dip by the support they receive from the government and investors. In countries that fail to support their startups, newcomers start off wary to even step foot, much less set up shop.
Thankfully, a good number of countries welcome the industry with open arms. Singapore, for example, remains one of the most attractive countries for a startup to operate, offering grants and incubator programs for aspiring entrepreneurs.
Grants available in Singapore
Grants are a government's or corporation's way of extending support towards startups that they believe in, that a business can use to fuel their growth.
Here are a few examples of the grants that you can enjoy in Singapore:
Startup SG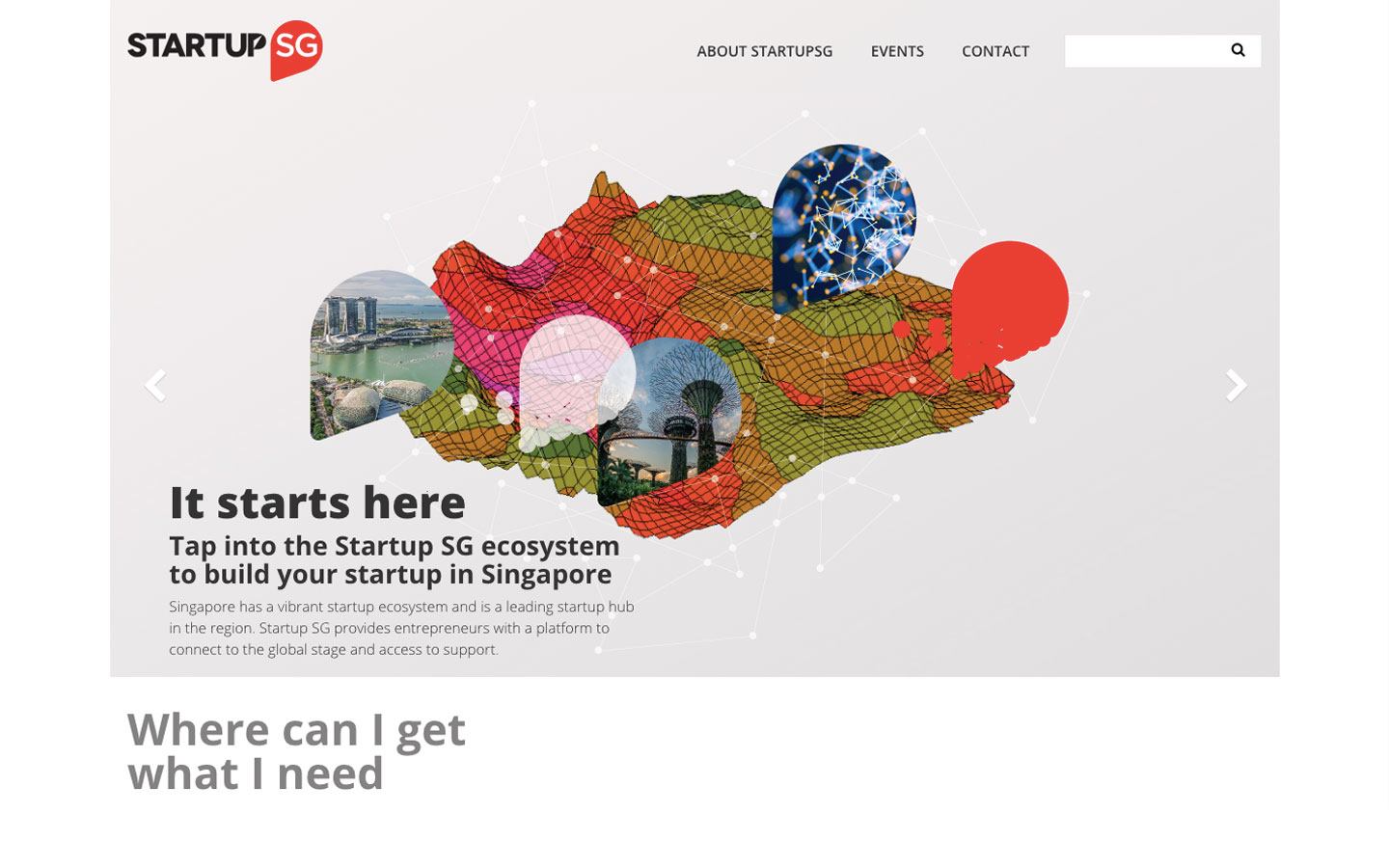 Powered by statutory board SPRING Singapore, Startup SG is an umbrella initiative that collects various grants for different types of startup opportunities. It is either backed by the Singapore government or coursed through investing firms.
Most notable among the offerings, the Startup SG Founder program provides grants and mentorship to entrepreneurs who have innovative and viable ideas. For more tech-specific grants, the Startup SG Tech offering aims to boost the progress of startups developing technology solutions.
International entrepreneurs are also invited to set up their own startups in Singapore. Startup SG Talent offers opportunities for a conducive entrepreneurial environment right in the heart of the city.
Startup SG offers more programs tailored for all sorts of markets. Check them out on Startup SG's website here.
Capability Development Grant
For established startups, the government also provides grants to help scale businesses upwards for a more sustainable growth trend. Created by SPRING Singapore, the Capability Development Grant supports various fundamental development areas, such as product development, branding and marketing, financial management, and more.
On implementation, the grant can support up to 70 percent of a company's costs. It is compatible with locally run SMEs with a minimum of 30 percent Singaporean shareholding, annual sales turnover of under US$77 million, and with less than 200 employees.
Due to a budget meeting earlier this year, it was announced that the grant will be retired for a more streamlined replacement (the Enterprise Development Grant, as explained below). Until its closure later this year, the grant will still be accepting applications from Singaporean companies.
Enterprise Development Grant
Touted as the replacement for the Capability Development Grant, the Enterprise Development Grant will take effect in the fourth quarter of 2018. The grant will be managed by Enterprise Singapore, a new statutory board created from a merger between SPRING Singapore and International Enterprise Singapore.
Similar to the Capability Development Grant, this grant will support up to 70 percent of a company's costs. However, since the grant is still pending application, Enterprise Singapore has yet to release more details regarding the grant yet.
For a more comprehensive list of grants available for startups in Singapore, head here.
Accelerators in Singapore
While grants provide financial support, incubators, on the other hand, provide professional mentoring and business resources that are conducive to a startup's growth. Moreover, accelerators can use a grant's seed funding to help a startup gain a leg up in the business world.
Here are a few of the accelerators you can join in Singapore:
Entrepreneur First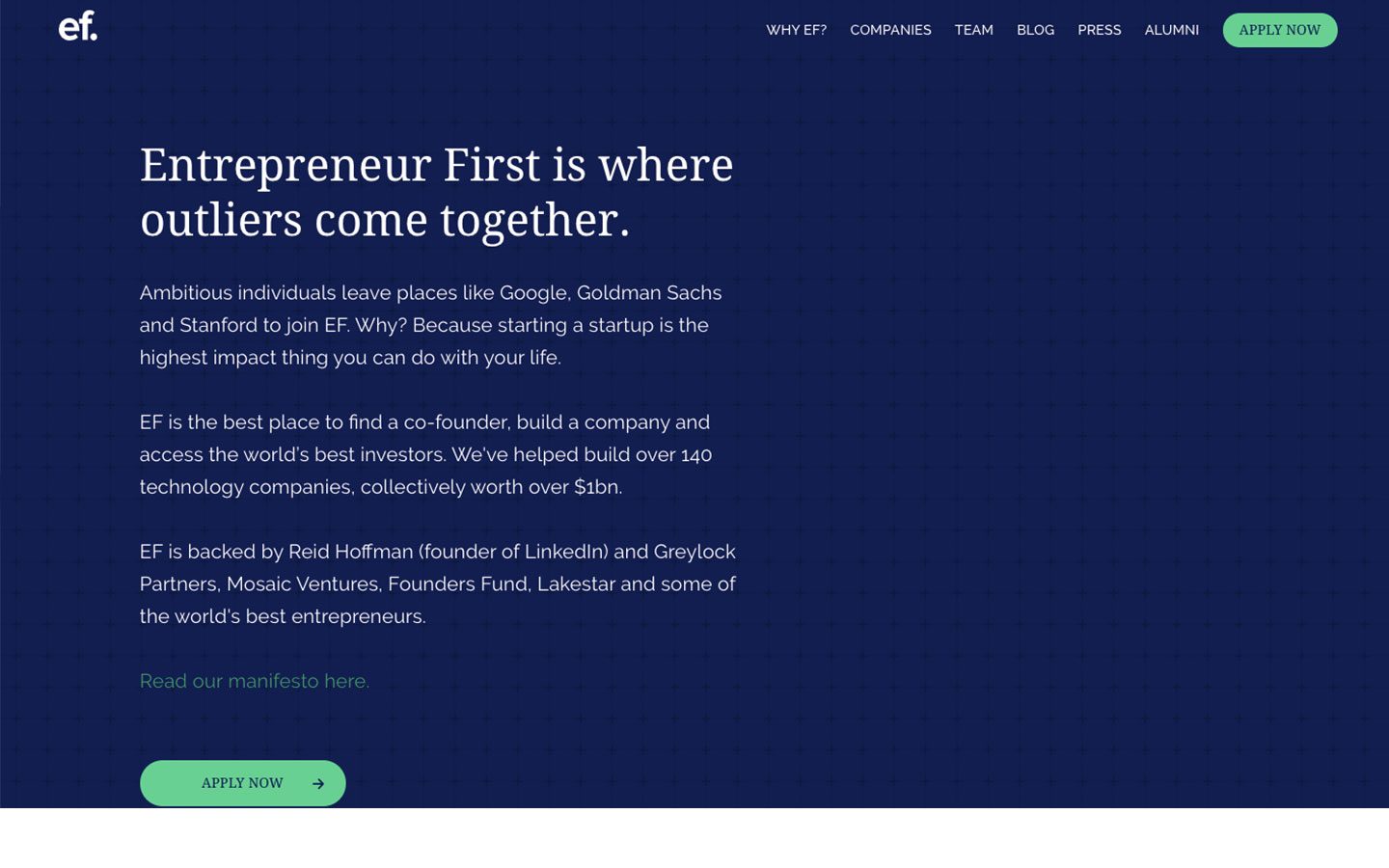 Creating a startup doesn't have to start with a business idea. Sometimes, it starts with partners you know and trust. Entrepreneur First (EF) champions that notion by hooking you up with co-founders before you start developing your plan.
For six years, EF has prided itself in guiding aspiring entrepreneurs as they build their startup from absolute scratch. Their six-month program comprises of three stages. First, EF Form pairs you up with professional co-founders. Then, EF Launch raises you up from an early-stage startup to your first seeding round, followed by EF Scale, which fast tracks your journey as a full-fledged company.
The accelerator has cohorts from all over the world including Singapore, Berlin, Hong Kong, and London. Besides the accessibility of its programs, its worldwide reach also allows its enrollees to enjoy guidance and resources from all over the world.
You can apply as one of Entrepreneur First's aspiring entrepreneurs here.
muru-D
muru-D's buzzword for its portfolio of accelerated startups is "globalization." Their metric for success involves preparing startups for eventual global scaling. Backed by Australian telco Telstra, muru-D enables startups to scale smarter with both local and international guidance.
The firm offers a six-month accelerator program that comes with around US$57,000 seed capital, mentorships, networking, office space, and master classes. Singapore's program is assisted by numerous mentors from different industries, offering the best guidance for a well-rounded growth. It is also open to startups from the region.
Currently, muru-D is mentoring its third batch of startups. It will open its program to more applications in June later this year. Interested startups can apply here.
IdeaRefinery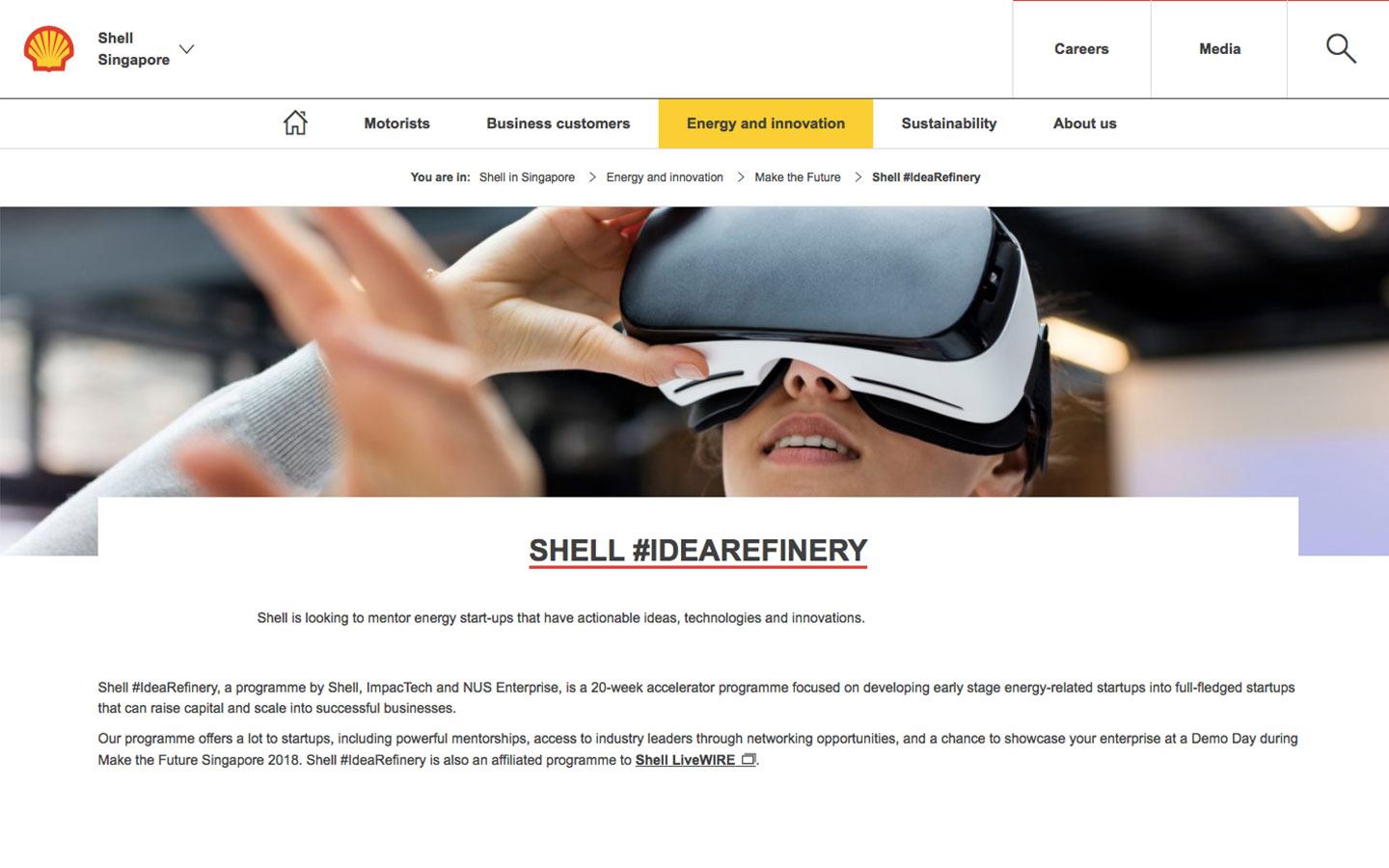 IdeaRefinery is the brainchild of Shell, ImpacTech, and NUS Enterprise. The 20-week program opened its doors to Singapore-registered startups that flourish in the energy industry. This includes emerging technologies in renewable energy, energy usage efficiency, and energy storage effectivity.
Despite its backing from a huge corporation, the program prides itself as a "no strings attached" system, allowing startups to spread their wings by themselves. Shell hopes to use the program as a testing ground for the sustainability of their own energy solutions.
You can check out IdeaRefinery's accelerated energy solutions here.
Startupbootcamp FinTech
With blockchain and cryptocurrency technologies running rampant, the fintech industry currently offers tons of opportunities for startups. Startupbootcamp FinTech Singapore provides a chance for fintech startups to enter the Singapore market.
Regardless of where the startup hails from, the three-month program offers a space in Singapore's bustling metropolis. It also offers guidance from a global network of mentors, investors, partners, and teachers. After the initial three months, the program offers events and deals for its alumni.
More details on Startupbootcamp Fintech Singapore can be found here.
More opportunities await you at TIA Singapore 2018
Need more convincing? At Tech in Asia Singapore 2018, hundreds of local players, partners, and investors in the startup industry will be happy to orient you on Singapore's welcoming situation. The conference also offers lots of opportunities to network with other startups in the region.
The conference is not just limited to those in the industry – as long as you're keen to find out more about startups and the tech ecosystem, you're welcome to join us. Tickets are still available at 10 percent discount (code: tiasg10), only till this Sunday, April 29, 11:59PM (GMT+8)!

Converted from Singapore Dollar. Rate: USD1 = SGD 1.31
This post A startup's guide to Singapore's grants and accelerators appeared first on Tech in Asia.